23 Jun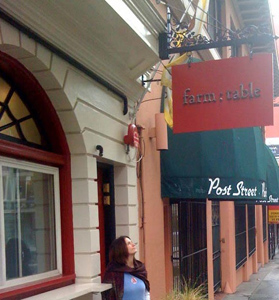 The localvore trend is another utopian idea that often turns erratic in the execution. The glowing golden concept of foodie sustainability, fresh ingredients, and relying on growers and breeders in the local area sometimes result in marvelous cuisine. Trendier manifestations, however, end with menus where perfectly good food disappears beneath outlandish preparation. Food should not be over-engineered. The fact is, molecular gastronomy is a gimmick plain and simple. Why would I want to eat meat
foam
? When did we forget that foam is a sign of botulism?
Farm:Table, near San Francisco's Union Square, keeps it simple. And, consequently, emerges as the localvore ideal. Breakfast, lunch, and coffee—the menu changes daily, and the chef tweets the day's offerings. Mornings usually feature a pastry or two, an egg dish, or granola. Lunch choices typically include a salad, a soup, some plate dish with protein, and two or three sweets. I ordered a scramble and hot tea, avoiding the siren song of the thick, grainy brown bread that they toast. I took what vicarious pleasure I could from listening to my friends' contented, crunchy sighing. My scramble might not have been sexy, but everything about them was balanced: very fresh vegetables cooked tender but not mushy, new eggs that were fluffy and nothing greasy about them. Eggs are uncomplicated, but most places get them wrong (hence the lack of sexy). So I find a particular pleasure in a plate of properly cooked eggs. They're hearty, nourishing, and a good defense against the general sogginess of San Francisco mornings.
It's a tiny place; a square farm table dominates the room. Order at the counter, and plan to share the space with strangers. The morning we went, it was scattered with newspapers from early diners. I scanned headlines and passed along the sports section when a guy to my left asked for it. Elsewhere, the seating could have been awkward, a forced informality that just makes everyone uncomfortable. But here, it had a communal quality that encourages strangers to be good neighbors. People share. They make room on the bench. They pass the sugar the first time you ask.
So rise early, walk down, and see for yourself. Remember to keep your elbows in at the table.