9 Nov
And I don't think my husband would mind. We love the Kimpton hotel brand…to a ridiculous degree.
No, they don't pay me anything to say this. I just can't help myself. There are those rare businesses that just get it right, and when you find one, you fall hard for them. You develop a loyalty that borders on religious fervor.
G and I first encountered Kimpton through the Hotel Palomar in Dallas, at Christmas time. I'd been sent there as an independent evaluator for a hospitality QC company (no I won't tell you which one). The décor and ambiance were gorgeous–enormous red and silver tree, a blanket of cranberries floating in the fountain, down tempo holiday music. There was  coffee/tea service in the morning, and a wine hour in the evening. All of that was great. But really, any up market hotel can do those things if they try (and should be bitch slapped if they don't. Really, people.) What won us over was the property's determination to get to know us and make us comfortable as PEOPLE. The staff learned our names on check in. The doorman made recommendations for places we could go, and asked how we enjoyed it when we got back. They remembered us the next morning, and made a point of giving us more information based on personal interests we'd shared. They made us feel special, and appreciated, and spoiled. Who wouldn't fall in love with that? As a consequence, we kept coming back long after I'd moved on to other work.
I travel a lot. That initial experience was enough to make me want to seek out Kimpton properties any place I know I'm going to visit. I stay often enough that I've become an Inner Circle member (that's their loyalty club's highest membership level). And I value the relationship so much that I work damned hard to stay Inner Circle, because they make it worth my while (ARE YOU LISTENING, UNITED?) In addition to the regular perks they give members, each hotel makes a point of doing something special for Inner Circle members. They make a list of your preferences and there is usually a small treat or surprise waiting in the room when you arrive. For me it's typically a bit of dark chocolate and some sparkling wine. That alone would be enough to keep me coming back. Smart marketing really…in the end it doesn't cost them much (probably less than $10 per visit total), and I'll pick their hotel over any other just about every time (I hardly bother with Priceline anymore). But what really seals the deal for me is when they go all out. On one occasion, their concierge read my profile and found out I like puppets. When my sister and I got there, I found this in my room: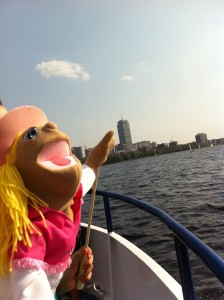 She'd gone out and bought me a cowgirl puppet. So, I went downstairs and did a little performance to say thanks, and then we took our new friend on our boat tour of the city. As you can see, she had a fabulous time. And I won't ever forget the gesture.
I'm in Portland, OR right now, where Kimpton has two properties. And when they brought up a little plate of snacks and my bottle of bubbly–I love that they know I love sparkling wine–they included a personalized thank you note that featured the logo of my blog. "Look," I said to my roommate, giddily," They read my blog! I thought only my Mom did that!"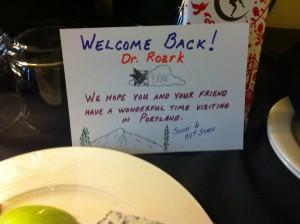 I'm a writer and editor, and I trained as an academic, but the people I work with are mostly entrepreneurs and business owners. So a big part of my job is to help people craft a message that draws their potential clients in, makes them feel understood, special, and valued. When that's done, it's up to them to keep the customers they find with their marketing (and that's why I try to be really choosy about who I help). When I want to point them to a company that I think is firing on all cylinders, I point them to this hotel chain. Because Kimpton has made ME love them by treating me well, providing consistently good service, and taking time to form a real relationship with me. They don't just go out of their way to please me, they have fun with me. And clearly it works, because they are very, very good at creating raving fans. I have no problem admitting I'm one of them.