23 Jun
Here is a truth universal: the key to a long and successful drinking career is moderation. Drink too much too often, and eventually you have to stop (or it stops you). The way I see it, the world is full of a wondrous variety of libations: some fizz, others burn, or tell the story about the terroir in which they were grown. A dry life is a dull life. And the real secret to moderation? Craft cocktails.
Some folks refer to the style as "Pre-Prohibition." And many of the recipes come from the Jazz Age or before. They take a long time to make. They aren't cheap (happy hour notwithstanding). And each one has a personality all its own. They taste so good that you might want to guzzle them, but you also want to make yourself savor them. I am really glad that craft cocktail culture seems to be growing. In my recent travels, I've found lounges and speakeasies from Cleveland to Austin. I had to hunt for them. So, I'm spreading the word, so all you have to do is wander a little ways off the beaten path.
Velvet Tango Room – Cleveland, OH
I am inclined to like any place that regards your choice of cocktail as a declaration of character. The Velvet Tango Room has a cocktail manifesto, and it's a strong indication of their character. They brew their own sodas and syrups (I recommend the grenadine, and so does G). Their website longs for a return to a time when "…a cocktail was not just a drink – it was a mood, a place, an aesthetic statement." The Velvet Tango Room serves up all three, in its environs and in the glasses from piano player to low lights to a well-concealed back room. Mine was an Apricot Lady. Ordinarily, I'd be inclined to box anyone who tried to serve me something with a girly name (don't get
near
me with  a Pink Squirrel). But this was frothy, sophisticated, and subtle. It made me believe in the
flip
the way some people believe in Botox.
Drinks are a flat $15. Yes, $15. They're worth it. And you won't be tempted to get over-served.You'll have to make an effort to get there; Cleveland has decent public transport, but has that typical Midwestern spread thing going on. A cab ride from downtown is the best option; they'll call you a return ride when you're ready to go.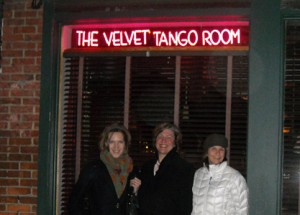 The Patterson House – Nashville, TN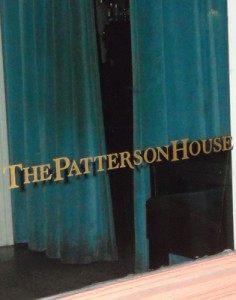 A nondescript vestibule with a blue velvet curtain. Behind it you'll find cozy seating, wall-to-wall bookshelves, and world-class bartenders. Oh, and eight different kinds of ice. Sit at the bar so you can watch the process of shaking and stirring, blending and pouring. These guys are tough to stump, and the menu is full of fascinating choices. Some drinks have a contemporary, haute cuisine edge. While I'm not seduced by the idea of a bacon old fashioned (if it is meat-based it isn't a cocktail, it's soup), there are plenty of options for those of us whose palates are more particular. They are gorgeous to the eye, and to the tongue. The food menu is wonderful, with small plates and sandwiches, some a southern twist on kid fair: shrimp corn dogs and peanut butter and banana paninis, for example.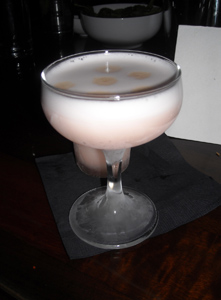 The Patterson House makes its own syrups and bitters. Cocktails are $11 each, and you may have to wait for some time if you're there on a busy night. I love the civility enforced by the house rules—they were written by someone whose mamma raised them right.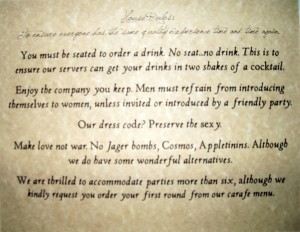 Craft – Los Angeles, CA

This is Tom Colicchio's (you know, Top Chef?) place in Los Angeles. Not a cocktail place per se, but the name is truth in advertising for their bar area. A handful of the standards: martinis, margaritas, each
with a local bent. Several options feature sparkling wine, which is my kryptonite. But the real standout of the evening was the Pessimistic Optimist—Plymouth Gin, nectarine, and thyme. And the bone marrow with parsley and fried lemons inspires reverent silence followed by feral growling and slurping. The menu is seasonal, so I can't promise you'll find the same if you go. But I am certain it won't disappoint.
I've said before that I live in a make-your-own-fun kind of town. And when G and I run out of local ideas, we head out on I-35. Austin has three places that bear mention:
They bill themselves an Absinthe bar. Yes, you will find several varieties of the Green Fairy (all of them with the psychotropic element filtered out). But it's their specialty drinks and small plates that really make the place. The French 75 is divine, and the bartenders are attentive to personal taste. They go easy on the sugar for mine. And the pommes frites (that's French fries to us common folk) are fried in duck fat.
This place is worth seeing for the décor alone. Fortunately, the cocktails are also made by hand with many house made ingredients. And they serve rabbit. Rabbit! Craft cocktails tend to be slow food, folks, so you're going to wait a bit at any of the places I mention. But be prepared. This location's pace is slower than most. Go when you have patience for a wait and someone to join you in a long, leisurely conversation.
Have your old fashioned while you roll a few frames. Their specialty drinks are fresh and fun, and the carpet is f-ing hypnotic. I have to love any place that combines a 6 lane bowling alley, a dance floor, private Karaoke rooms (a blessing for us who don't dig on amateur nights), and a full complement of illustrated wait staff. What more could you want from an evening's entertainment? Be prepared to be out-hipstered by your waiter, and to get some attitude if they don't like the particular way you've ripped your fishnets.